End of 13th Entry: Together with mountaineering, I took up cycling and on foot of bike searched the long wonderful coastline of the Cape Peninsula. The fairyland of Constantia…..
Mickey Osmond the son of a well known South African family had ample excuse for living in a world of dreams – in his veins ran some of the oldest blood of Ireland mixed with a strain of Holland and a dash of that of Sweden. Of his mixed ancestry, all seemed to have contributed something of the wanderlust and the love of strange company to him.
From earliest childhood, the boy had been reared on stories and in an atmosphere of sailing ships and wars. Africa was still in the making – Britain and Boer were at one another's throats in the North – The Union of South Africa existed only in a few dreamers minds of Natal and Cape Colony were self-governing Colonies of Britain. The Transvaal and the Orange Free State Independent Republics at war with England.
Table Bay lay crowded with shipping – a day before the youngster had counted a hundred and sixty vessels, steam and sail lying in the roadstead and out beyond the breakwater. Cape Town was filled with troops from all dependencies of the English Crown. It was indeed a goodly time for a boy to be born and bred – the closing scenes of the Old World.
Away in the North lay a vast unexplored world where a few pioneers were hacking out the road for civilization – marvelous stories of the findings of ancient cities of a vanished race – gold discoveries which made the recent Klondyke strikes fade into insignificance – of innumerable herds of elephant and great races of savage warriors.
Only three years before the youngster had witnessed a parade of troops returned from the smashing of the Matabele armies – it was the Queen of England's birthday and on the square, regiments of soldiers in their red tunics and dark trousers, their white helmets spiked with brass, marched past that great man the Queen's Governor of the Cape Colony. Squadrons of mounted troops in blue tunics and slouch felt hats wheeled and trotted into their places.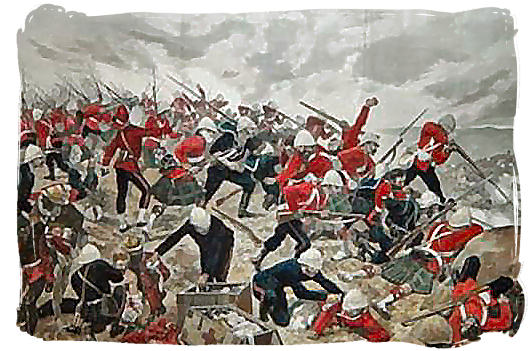 The Battle of Majuba Hill
Anglo Boer War in South Africa
Field Artillery rumbled past and as the "Feu de Joie" was fired great masses of smoke split by red flame rolled from the martinis and cannon. Since had been another native rebellion and gruesome stories of officers boiling the head of an executed chief to keep the skull as a regimental trophy – then had come the Boer War which was still raging and all the world appeared to be flocking into "The Old Tavern of the Seas."
And tomorrow the story continues:
"Glancing at the crew the boy felt a thrill as he sensed how close reality was to fiction…"