End of 18th Entry: "Smartly done me, lad! Smartly done!" said the Skipper laughing as he dropped his line overboard.
For an hour the crew fished catching a few of the reddish white Silverfish and a couple of large-mouthed goggle-eyed red bodied fish called Jacopever whose name was supposed to come from a resemblance to an old sea captain of that name.
The fish were not biting briskly though and Old Jack's grumbles became a source of irritation to the Skipper who at last gave the order to weigh anchor and make sail.
"You'd make a darn good success driving a hearse Jack," said the stroke oar a taciturn worthy "Pity your mother didn't smother you when you were a kid."
Growling some indistinguishable reply Jack proceeded to slack away the anchor rope from the bow-post and slip it on the small wheel over which it was hauled. The rest of the crew tailing on the rope soon had the anchor up and hoisting it aboard proceeded to make sail.
"Had a good day, Mick? asked the Skipper as he shipped the rudder and slackened off the sheet.
"The best of my life!" answered the boy enthusiastically.
"Well if your people will let you, I'll take you out on a real fishing trip – be at the boatsheds at four on Saturday morning.
"Oh! Thank you, Mr. Pienaar, I'll be down, no fear."
"I don't hold with little byes going in boats." Remarked Jack "I reckons as how boats and sojers spiles byes, makes 'em unsettled and takes them from their learning, if I had a bye I'd learn him better than go mucking about wi boats and ships I would – put wrong idees in byes heads it does."
"How'd you bring up a youngster, Jack?" asked the stroke oar.
"I dunno exactly – never had one to bring up but the way people brings up byes and gurls nowadays haint my idee of bringing up byes and gurls it haint, take the byes and gurls of this here place, they haint byes and gurls to my thinking they's wild animals" and Jack expectorated at a passing gull."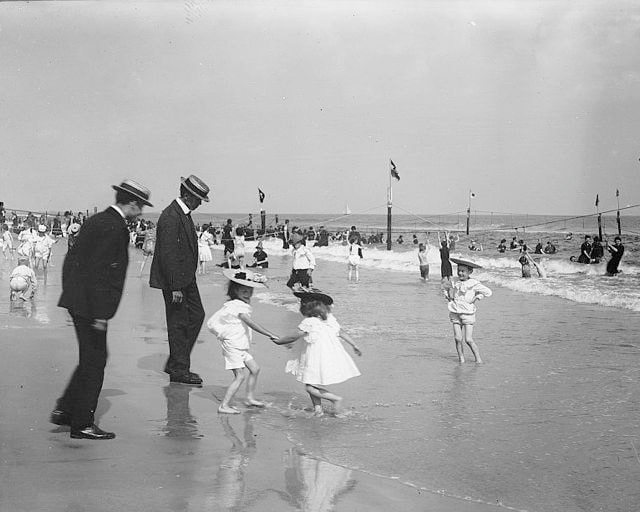 Mickey gazed at the Old Salt with speechless indignation, then said, "I suppose he likes a blooming milksop in a lace collar and a velvet suit, a girlie girlie with long golden locks!"
"Oh Jack likes everything that's contrary to other folks' opinions," remarked the Skipper grinning.
The boat was running before the wind with the mainsail squared away, and pleasant though the smooth run of the boat was to others, Mick began to yearn for something less tame. The stroke oar had shown him how to tie his fish into a bunch by passing a strip of osies (can't find a translation) through the gills and mouth – he had asked all the questions he could think of for the moment and at the end of the trip was approaching too rapidly for his liking.
"Can't we have just one more run against the wind, Mr. Pienaar," he asked "Only a small one."
"Sorry Mick, it's too late and we are not for pleasure – this is our job and like all jobs, we're glad to see it over just as you are when school finishes."
"I said a kid shouldn't be allowed in boats," remarked Jack 'it spiles them and they're allers in the way askin' questions and worrying folk – you gives a bye a happle and he wants a cake to eat with it, byes is a worrit to their pa's and ma's and to everybody else. I don't like byes I don't."
Mick put out his tongue at the fisherman's back a feat which drew much silent mirth from the two Malay half-breeds.
By this time Boat Bay had been reached and with a fast dropping wind the fishing craft rounded the reef and the tide being high ran onto the tiny beach.
A tiny crowd of people drawn by curiosity or the desire to buy fresh fish gathered round and proudly Mick sprang ashore noting with glee the envious looks of half a dozen school companions.