Mick found his new life very different from that of Struan. Instead of thousands, there were only forty acres, but he found 10 000 fruit trees and 55 000 vines with odd patches of arable fields kept him with his nose to the grindstone. He had arrived just in time for the winemaking and from dawn until dark was working with, and urging on the pickers until the very sight of great piled baskets of purple, black, red, green, and white grapes sickened him.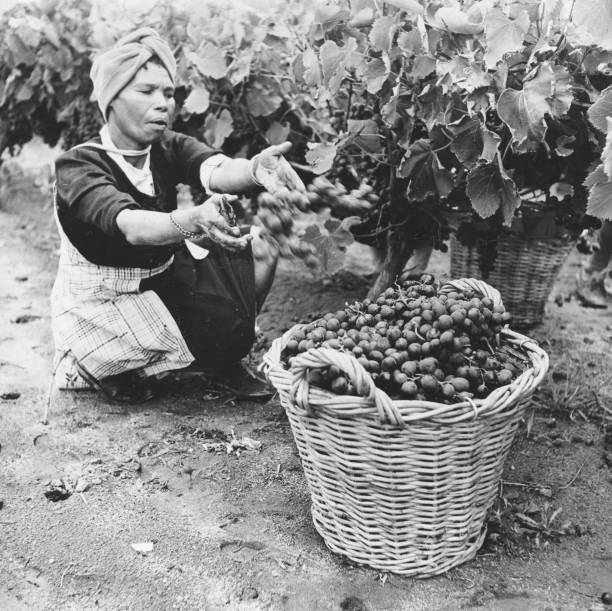 The owners had not yet built a cellar so the grapes were sent down to his brother's farm a mile away. Here Mick struck up a warm friendship with the eldest son a tall young man who was devoted to athletics of all descriptions but chiefly to rugby, football, weightlifting, and wrestling.
Rÿk Van Blommestein gazed pitying at Mick's want of stature and physical development and finding that the youth was longing to possess the strength of a professional athlete Rÿk  took him to his room, stripped him, conducted a thorough examination, ran a tape over him, caused him to lift weights and strain at a physical developer. Eventually deciding that there remained a remnant of hope Rÿk issued his instructions.
Mick was to sleep naked between coarse blankets, discard undervests – at dawn run around the farm, take cold showers perform various Swedish exercises and then begin work.
Throughout the day Mick was to look upon whatever job he was on as physical exercise – note the muscles being used and concentrate his thoughts on them getting as thorough a series of exercises as work made possible. At midday a few movements of Swedish drill were to be performed and another lot in the evening. After dinner, he was to come down to Rÿk for further instruction.
Armed with a physical developer, Lieutenant Muller's book on keeping fit and a number of copies of Health and Strength Mick returned from his first visit to Glen Rÿk filled with new ambition.
Month after month sped by – an ideal life for a youth on the threshold of life. A great well-ordered home where all the traditions of a long line of gentlefolk were strictly observed, glorious air heavy with the tang of mountain and ocean, the life-giving fragrance of the pinewoods aided the merciless discipline to which he subjected his body. Then to Mick his mind, as well as his body, received training.
At his own home life was more or less a Bohemian existence. Six boys and girls with scores of friends, parents full of Irish blood and artistic instincts all resulted in the house being a happy-go-lucky home where the strict observance of convention was impossible. Mr. Osmond was an honourary organist, conductor, and secretary of an orchestra, a dramatic society, a choral society and the assistant head of a Government Department.
Mrs. Osmond was the idol of a large circle of relatives belonging to old-world families to whom life was a leisurely round of social visits. So all day and until late in the night the house was full of visitors while boys and girls raced in and out.
"Mother, have you seen a football?" "Mother where's my rod?" "Mother where's my hockey stick?" "Oh, Mother don't you know what I did with that song?"
Whilst parties, orchestral rehearsals, band practices, committee meetings – with half the time someone hurt at football or on the mountain or sick through some foolish act. No there had never been time or opportunity to dress for dinner, to be particular about fingernails, to moderate one's tones – to be perfect little gentlemen in any way.
But now Mick was in a home where the children had their own portion of the house under a head nurse and a nursemaid. He himself breakfasted and lunched alone in the Governess's room and lived in a little two-roomed cottage in amongst Silver trees. In the evenings shaved, bathed and dressed Mick dined with the owner and his wife – warmed and poured Burgundy, handed round cigarettes and coffee – made his hostess comfortable and read books selected for him by the owner Thackeray, Scott, Dickens and other excellent solid authors.
On Sundays, he had all his meals with the family or at the owner's brother's home though often he went out to his own people.
Saturday afternoons were generally spent at Newlands watching the famous Western Province teams competing for the Grand Challenge Rugby Cup.
Saturday evenings at a theatre or music hall. It was a quiet uneventful life – with plenty of healthy work and wholesome amusement amongst boys and girls of breeding and refinement.
Mick soon began to long for something sterner and more filled with excitement. The wild mountain walls and crags ever looming above, the blue, white flecked oceans before, breathed message after message to the boy and Mick started enquiring as to the possibility of getting into other rougher conditions.
Six months had passed when the lad was offered a post on a large sheep run near the borders of the Kalahari Desert – Mick jumped at the offer and feeling at last that the gates of Romance were opening arranged to leave the beautiful Valley of Contentment.