End of 64th Entry: The Imperial Light Horse had suffered several casualties and were furious as they had driven the Rebels into a circle of Boer commandoes. Kemp was in a position which made resistance impossible but through treachery or foolishness on the part of a Commando he was allowed to escape with his whole force and join up with Maritz the renegade.
General Botha finding that neither the Rebels nor the Germans appeared desirous of meeting his forces withdrew all but a garrison and returned to Cape Town to prepare for an invasion of German South West Africa from its seaboard.
Louis Botha
The troops left at Upington consisted of a number of Cape Colony district regiments – mostly, if not trained at all, the bulk of them, Rebels at heart and very poor war material.
One fairly good regiment stiffened by a squadron of men from the Diamond Diggings, most of them Boer War veterans together with a battery of the Cape Field Artillery – youngsters but keen and plucky as terriers – formed the only reliable force.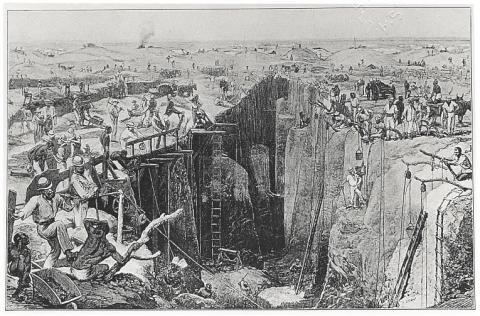 Diamond diggings
Had either of the two Rebel leaders possessed any qualities of leadership, had their followers shown any soldierlike spirit, if the German Command had displayed any initiative, Upington with its rich collection of military stores, remounts, transport, animals and material would have been a plum so ripe as to fall to the merest touch.
One battery of field guns, a few machine guns, a company of good regular troops with a soldier in command would have taken Kakamas, Upington and probably the Gordonia district with hardly any opposition for what had they to contend with?
Pictured is Manie Maritz in Upington during 1914
One battery of boys armed with old-fashioned guns, one Squadron of Veteran soldiers, and a large rabble of half-hearted armed men their retreat cut off by a great river; yet no move was made by their enemy. Evidently poor as was the defence material the other side was poorer.
Yuletide came – a few days before Mick was detailed to take some waggons laden with Christmas comforts to troops garrisoning the village of Kakamas some sixty miles down the river, for some reason, Viljoen at the last moment substituted two recent arrivals in Mick's place. These men were of a low Boer type whose looks, manners and personalities disgusted the other Conductors who regarded them with unconcealed suspicion.
A few days later came the news that the Convoy had been captured by the Rebels. Black looks were cast on Viljoen whilst open murmurs regarding his past, and whispers of his former association with Maritz ended his former popularity.
Since General Botha's departure, the Transport men had been gradually falling from their old happy-go-lucky life full of good comradeship and keen rivalry in work, feats of physical endurance and horsemanship – the old concerts had been abandoned and laughter or banter was seldom heard in the mess. Several causes were contributory.
Viljoen seemed to have lost interest in his men, the Officer-in-Charge was detested but the greatest factor was undoubtedly the many temptations to amass money easily.
In Prieska and Draghoender there had been no opportunity of testing the honesty of the men except that whiskey was obtained more plentifully and easily than could be accounted for. At Upington, the Conductors found scores of tiny canvas shelters advertising the sale of ginger beer. These lay en route from the rail-end dump of military stores to the pont dump.
Mick and his companions were employed in transporting the contents of the one dump to the other – a journey of about two miles. Both the loading and the offloading was unchecked – nothing was signed for, nobody tallied what was taken or delivered. It was the simplest thing in the world to husk off a bag of sugar, a case of boots, boxes of jam or bags of flour as the waggons passed the canvas shelter of the Yiddish ginger beer merchants.
The civilians were making small fortunes from the troops but found it almost impossible to get goods transported from Prieska. Every necessity was therefore at famine prices so a golden harvest awaited men who could supply footwear, foodstuffs and luxuries.
Mick though not adverse to getting an occasional bottle of whiskey in exchange for a pair of boots or any stray article, was not a thief, and the wholesale robbery going on around sickened him and one or two others. Relations became strained as each man chose his own road and became suspicious of his neighbours.
The Hangman transferred to the Natal Light Horse and departed to the German South West Seaboard, the ex-attorney was discovered in his speculations – too many seniors were involved however and he was allowed to resign and take up a civilian billet.
Then came Christmas – a concert was held at the Transport Officer's billet, whiskey flowing in unlimited quantities until eventually half a dozen very far from sober men started back to camp. On arrival they found scores of the Coloured drivers fighting drunk, having stolen a couple of kegs of cape Brandy which the Conductors had got for the celebration of Christmas.
Viljoen began knocking the drunk men about and one, a half Bushman, half Hottentot, flung himself on the Head Conductor, a drawn knife in his hand. Viljoen full of drink staggered caught his foot against a stone and fell heavily, the Bushman on top.
Mick dived into his waggon, grabbed a rifle and ran back to see the Bushman raise the knife. Without an instant's hesitation, Mick whirled up the rifle and brought its butt crashing down missing the Bushman's head and shattering his thigh.
Freeing himself from the unconscious body Viljoen rose and ordered the Bushman to be tied to a tree. All night Mick shuddered as scream after scream of agony mingled with curses and threats against himself rang through the night.
In the morning the Bushman was released and handed over to the medical authorities – he was very weak, his thigh swollen enormously but he bore no grudge telling Mick that he knew he hadn't hurt him deliberately and that he had told the doctor a waggon had run over him.
South African motor ambulance, c1914
(Photo: By courtesy, SANDF Documentation Centre).
Shortly afterwards the Orange River came down in flood. When it came the mass of water arrived like a tidal wave.