"Do you know anything about mining, Mick?" asked Devereaux, a fellow section manager on one of the great Rhodesian ranches.
As it happened I did – not much but enough to know gold from iron pyrites anyway.
"Not a great deal but I've done a bit."
"Well I've found an old mine," said my chum "it may be just abandoned working but I'd like somebody who knows something about mining to have a look at the place. Of course, its understood that Mum's the word regarding it."
"I'll keep my mouth shut," I replied.
"Then let's saddle up and ride over – it's about six miles away," suggested Devereaux.
We went at once, cantering some four miles along a road to one of Devereaux's cattle posts, then turned off into some parklike country – a big basin bounded on three sides by hills and dropping away into the rolling granite country.
A couple of miles brought us against a rocky ridge with heavy timber growing on its slopes. Here Devereaux, after quartering about for a while, brought me to a long outcrop of quartz intersected with old cuttings.
Dismounting we tied our horses to a tree and began investigating the cuttings and a couple of old shafts, neither more than twenty feet deep and both badly fallen in.
I like the look of some of the quartz and the outcrop seemed a thumping long one – well over four feet wide – one half of it pitch black quartz – then some white, well mineralized, running again into the black.
We talked the thing over and took some comprehensive samples which I promised to take over to a small mine near my section to be crushed and panned.
I rode home that night and early next morning went up to the mine and showed the owner my samples. He liked the look of them so we wandered down to his battery, crushed the stuff up with a pestle and mortar, gave it a good washing in the pan and worked out the crushed ore. The tail gave a long stream of gold.
"It's good stuff, Mick," remarked the miner "I'll have a look at the place if you like."
"Thanks, Mac" I answered, "but it isn't my mine and the chap who's got it isn't taking any risks – wanted to know whether there was any gold worth speaking of in the reef that's all."
Mac laughed "Well I don't blame him – it's always wise keeping a still tongue in one's head – you can tell him the average of the samples is running at 8dwt in the pan and will go much better in the assay – there's a lot of galena and pyrites with it and the gold's fine. Tell him to cut into the reef in four or five places – take three samples from each cutting – one in the centre and one from each side – mark them carefully and send them into town for assay – well let's go and have a drink."
Devereaux was pretty excited when I told him the results and we had a council of war. Neither of us had any cash to use in development or prospecting work nor did we want to risk our jobs.
At last, it was decided that I should approach a friend on a neighbouring ranch and try and enlist his sympathy and help. My attempt was successful. Jack came out with another friend, the reef was examined, samples sent away for assay and we pegged a block of ten claims. These amounted to an area three hundred feet wide by One thousand five hundred feet long and took in the best part of the reef.
The assay gave excellent results – 20dwts in the centre 7 on one side and 8 on the other. A syndicate was formed, Devereaux got £50 as the discoverer, we engaged a chum of mine as the miner, took on some natives and began the work.
The old shafts showed that the reef instead of going down vertically lay at an incline, so to try and strike it at water level we started fourteen feet away from the reef and dug a shaft straight down into the earth's bowels.
For days I couldn't put my mind to cattle. Vision after vision floated before me. What a life I would have – a ranch of my own, only first-class cattle and wouldn't the section managers have a hell of a time. I knew their tricks alright. God help anyone who came the double on me. I might even give my present manager a job just for the pleasure of sacking him.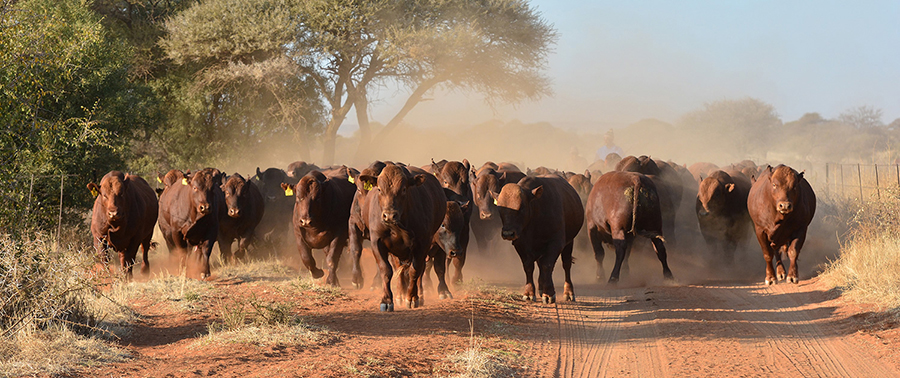 At thirty-five feet we cut in towards the reef to see if we were doing right – at seven feet we found her and both pannings and assays gave satisfactory gold.
The next three weeks I couldn't sleep nor could the others. Heavens but sinking a shaft went slowly – we engaged more boys so that a night shift could be put on.
At seventy-two feet we struck the reef – two inches wide, no gold and disappearing into solid beautiful blue granite, hard as the hobs of Hades.
"It's a gamble is mining," said my pal the small worker.
B.M.L.
B.M.Leffler
Valley Farm
P.O.Brooklyn
Pretoria
Circa 1930s