End of 56th Entry: That summed up the situation Mr Osmond telling the three Rhodesians that during the day their best course was to go into town and investigate conditions before attempting to decide on their future policy.
After a good sleep and hearty breakfast, the trio proceeded to Cape Town where Mick, arranging to meet his companions later, began a round of interviews.
Calling at the Castle he endeavoured to enlist in a Defence Force Unit. The Colonel, an old family friend took his details but had no authority to enlist anyone – so fared Mick in half a dozen other attempts – calling at the Drill Hall he found a British Battalion just arrived from the North. Here he was informed that recruits were being accepted and was told to report at 9am the following morning.
Mick turned away feeling as though on the brink of a precipice. He intended going overseas and here was his chance, but he felt incredibly lonely at the thought of going as a private soldier in a battalion of utter strangers, felt too, the Colonial's instinctive prejudice against the stern discipline of a regular line battalion and craved to be with mounted men of his own type.
Shrugging his shoulders Mick went off to be attracted by the painted words "Legion of Frontiersmen" over a doorway and beside the door "Recruits Wanted" calling in Mick interviewed a hard-faced citizen who after taking his particulars – Cadet training – four years Bush life – excellent education etc. ushered him into an inner office where half a dozen tougher citizens were grouped around a table. Introducing Mick the hard-faced man retired and a grizzled old veteran put the Rhodesian through a searching catechism.
"All, right Son, we'll enlist you in the Legion," he said at length – "As yet we have not been officially recognised, but we're expecting a cable any minute accepting our services as a unit to act in any capacity, mounted, infantry or special services. Parade at 5 p.m." Filling in and signing a form, Mick felt infinitely better.
A couple of days went past. Mick put in some hard drill with a crowd that reminded him of the Anglican prayer for "All sorts and conditions of men." but no acceptance came of the Legion's offer of service which had been communicated to both the Imperial and Union governments. Mick inwardly grinning at the thought wondered if both Governments considered letting loose the crowd he had met on a civilized nation was contrary to the rules of the Geneva Convention.
Meanwhile, the South African Labour Party were enlisting men on behalf of the departing Imperial battalions. Mick's agreement with the Legion allowed him to join any fighting unit in the interval before the services of the Legion were accepted. After he had passed without apparently being any nearer the firing line, Mick with Taffy, (the third having joined the Garrison Artillery),  put his name down for the Essex Regiment and came home with an armlet which in bold blood red the words Labour Legion were emblazoned on a white background.
It was September 1914. Michael Osmonds' parents, relatives and friends belonged to the old world of ancient families to whom their order was their religion. Labour men were classified anarchists, nihilists, vagabonds and rogues and even Mick himself when out of sight of the Labour Party's recruiting table took off the fatal armlet, and gazed upon it  with deep suspicion mixed with feelings that he had committed sacrilege, sold himself to the Evil One, and become a member of a Secret Society. 
Putting the armlet in an inside pocket Mick proceeded to have a drink then went home wondering how he was to break the news. He felt that had he simply enlisted as a private soldier in a British battalion the family would not have offered the slightest opposition, only have sympathized with him and regretted his being companionless in his venture. To, however, join via a back door such as the Labour Legion would convince him that he had lost his reason.
"Wonder why the blazers I did," he remarked to himself "I wish that I'd joined up with that last regiment –  I've a damn good mind to push off to the Docks and work my passage over." This determination was greatly strengthened by the reception his step met with at home – a reception which more than fulfilled his expectations.
Now, most of Mick's spare time since arriving from Rhodesia had been divided between his fianceé and the Transport Office. Here he with various friends became an absolute pest in their endeavours to find acceptance of their services in the transport conveys.
On Mick's plunge into the Labour Legion Mr Osmond aroused himself to find a loophole of escape for his son – armed with letters of introduction, Mick interviewed various influential men, then once again turned his face towards this Transport Office and sending in a letter to the Commanding Officer he waited a while, was asked to follow an orderly into the Presence and after being asked a few questions came out wreathed in smiles.
He was engaged as a conductor of Transport at 7/6 per diem and rations. A uniform would be issued if required, on the Repayment system. Duties were to commence immediately.
For three days Mick lived next to the Dock gates working on unpacking and fitting harness, trucked a few mules and generally having an easy time. From Ordnance stores, he was issued with Bedford cord riding breeches, brown boots and leggings, a slouch hat and khaki tunic with stiff cardboard lined green collar and cuffs. He also drew a big Webly Revolver with ammunition, so felt himself a last to be a member of the armed forces of the Crown.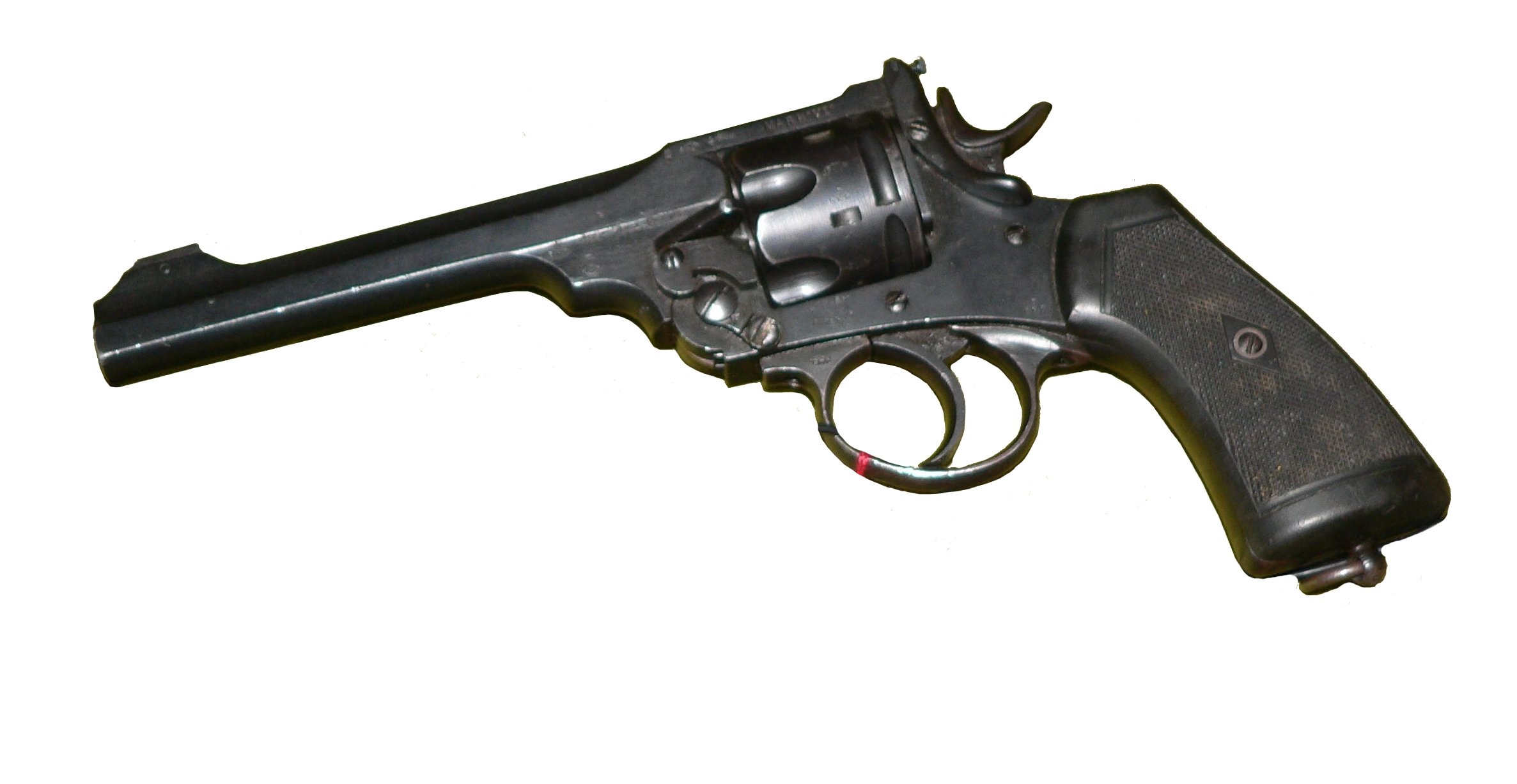 Meanwhile Mick's love affair came to an end – in many ways still only a schoolboy all Mick's thoughts and attention concentrated on his new life – he hoped the German West business would be over in a week or two and that then he would get a chance to get Home with either or South African or Rhodesian Expeditionary Force or with some chums.
Three days after receiving his appointment Mick was ordered to proceed early next morning to the Maitland main transport depot, as one of a detail of conductors who would take charge of a large number of transport waggons and animals. On receiving the animals the conductors would drive them to the docks, ship them and proceed to one of the Theatres of War.
Next day the detail of six transport conductors and one head conductor proceeded out to the Remount Camp on the Cape Flats some six miles from Cape Town where they were issued with horses – with lively curiosity they then rode to the Transport Camp and to their disgust took over one thousand three hundred and twenty sad looking donkeys together with a hundred and fifty Cape Coloured men to act as drivers and leaders.
Mick had drawn a really good grey horse with a beautiful action. The horse seemed to have been a pet as it was particularly well cared for, especially considering it to have been issued from a great heard of Remount horses running loose in open paddocks.
The Rhodesian, therefore, felt that drive from Maitland to the Cape Town Docks as one of the greatest events in this life. The huge grey drove of donkeys herded by shouting Coloured men, himself with half a dozen others in picturesque army dress riding around the drove heavy revolvers slung over their shoulders, short handled 25ft lashed stockwhips in their hands all made his mind bring back boyhood memories of wild Argentine Cowboys driving up the mobs of mules, horses and cattle from the Docks in the now distant Boer War days.
Then he had been one of the onlookers watching with lively curiosity and interest what appeared denizens from another world. Now he felt that hundreds watched him with the same feelings.
"Damn shame we've got donkeys," he thought "Jove it would have been thrilling driving a thousand mules or horses through Cape Town.".
At the Docks, animals were shipped into an old cargo steamer. A northerly gale was blowing with a heavy see running outside the Breakwater, and Mick grinned as he looked at his fellow conductors all of whom were typical Bush countrymen. From these men, his eyes wandered to the gay chatting coloured folk bidding farewell to numerous relations of either sex, all colours, shapes and sizes. Guitars, banjos, concertinas and fiddles were wailing, tears flowing mixed with laughter as the brown people all their feelings, surface ones, revelled in the emotions of the moment.
The Queensland had already loaded sixty transport waggons each of which would be pulled by twenty-two donkeys. Immediately the donkeys and men had been shipped hawsers were cast off, the tugs busily hauled her into the fairway and with the threshing screw, the tramp began her voyage.