Living as the only white man on a hundred thousand acre section on a Rhodesian cattle ranch has its drawbacks.
Most people one talks to about the Wilds seem to think the chief disadvantages are lions, snakes, malaria and natives – shows what strange ideas people get from reading books and going to picture houses.
Lions and snakes are a cattleman's friends really – they help account for a lot of losses it would grieve him to admit to the manager were due to not preserving grazing from fires, or to feeding off grass near permanent water at the wrong time. It looks for more interesting too in one's returns putting down ten deaths to snake-bite rather than Quarter Evil.
Loneliness is the disease that counts in the Bush. Malaria doesn't worry a man any more than headaches seem to do a woman, whilst as for natives – my experiences is that whatever savagery takes place is done by the man who catches brother black doing what he shouldn't.
Most trials and troubles in this world can be conquered by the exercise of a little willpower or a dose of Epsom Salts but loneliness has one beat every time – there is no cure for loneliness and no preventative – the only thing to do when it grips you is to break out of its clutches and run.
I'd passed a month without seeing a white man when the disease came along – I wasn't new to its effects but the trouble was where to go if I wanted to escape. On one side of my section there was a country in which one might travel for years and not see a white, on another I knew there wasn't anybody bar natives for forty miles, behind was Main Camp and if I called there just because I was lonely the probabilities were that I would get the sack and the Manager have heart failure. There remained one side – the East and I'd heard from my natives that there was a white man living about twenty miles from my house.
I rode over one day and found a strange crowd – answering to the good old name of Smith – father, mother, two sons and a daughter, all from Seven Dials. Father was nominally manager of a large Company owned Lodge but it seemed that Ma was the real boss – "she 'adn't 'arf choked the Managing Director off last toime 'e was raound abart the plice she 'adn't."
The daughter looked healthy – some poor devil will lead a hell of a life one day I thought – anyway she's yet young and nice to play with.
I rather liked the two boys – good strapping English lads. The whole family were friendly and more than hospitable while their Cockney wit and humour kept me laughing like a schoolboy.
They wanted me to stay overnight but though I'd have liked to there were too many valuable bulls at my camp to risk slipping away without a sound excuse. Finding I was determined to move on the girl asked me whether I'd like a pup to take back with me.
The one thing I was badly wanting was a dog and I'd noticed a dozen animals of assorted breeds about the house. There were big lion dogs, little smooth hair and wired haired terriers with a couple of pointers to put in the medium element.
I'd love one" I answered, "but how can I get it over to my place?"
"Put it in your shirt," she said "it's only a tiny morsel of a thing, father a pedigree wire haired and mother purebred smooth terrier. They are both beautiful dogs and the pups ought to be grand."
Accepting with thanks I accompanied Miss Smith round to the Stables to select the gift. I didn't hesitate over which I wanted – there were four puppies, three typical fox terriers and one, a real wire-haired.
"You're mine" I exclaimed picking him up whilst a dainty black and white mother dog whined anxiously at me.
"That's the pick of the bunch," said Miss Smith "He is just like what his father was."
My horse objected rather strenuously to our passenger at first but gradually settled down so my homeward journey was uneventful. Puppy snuggling contentedly against my body.
Few things in this world are so near perfection as the friendship that can exist between a lonely man and his dog. From the first night, Donald, as I named him slept on my bed, shared my meals and within a couple of weeks, began accompanying me on short walks around my camp. Most of my work was range riding and naturally, a pup couldn't run very far or keep up with a horse.
At first, the poor little beggar used to howl most dismally at having to remain behind. Then one day returning home after a long ride I found Donald gone.
I was afraid something had snapped him up – a little pup is an attractive morsel to a leopard or hyena and there were plenty about still it wasn't likely anything would come near the house in broad daylight and Don wasn't in the habit of wondering. An eagle might easily have taken him but my cook swore that none had been about.
What I worried about most was snakebite – a young animal is always inquisitive particularly a baby fox terrier, and if it was to see a snake basking in the sun there was a certain chance that a pup would go sniffing at the thing and find instant death.
We hunted around but found nothing so saddling up I went off the way I'd ridden that morning. Five miles from camp I heard a dismal howling and there was Donald too weary to move but gamely facing the direction I had gone.
After that Donald came with me – usually on my saddle with a spell of exercise when there was no need for riding beyond a walk, the runs got longer and longer as his powers developed. It was surprising how soon the wee doggie could do his five to twenty miles, though when hurried or on a long round, it was a nuisance to suddenly hear wild wailing behind and find Donald sitting in the veld announcing to the Heaven's how tired he was.
Once he had had enough he would not budge a yard. The horse must come to him and his rider dismount to lift him on to the saddle.
The rains came. I had to ride over a swollen river to see a sick cow. Don followed as far as the stream and I shouted to him to go home then drove my mount into the current. Jove it was strong and deep. To my dismay Donald the wee rascal never hesitated – as we entered the river so did the dog. Naturally, he went whirling downstream and slipping from the saddle I followed. If anyone asked for trouble I certainly did and got it in full measure. Fortunately we had only entered the edge of the current but even so, there didn't seem a hope especially with boots on – however, the little cherub up aloft remembered I came from seafaring folk and swung me into an eddy. I grabbed Donald and we scrambled ashore half-drowned.
In training animals, experience has taught me that the shaper the intelligence you are dealing with the harder is the trainer's task. The pupil will persist in trying to anticipate what he is being taught with invariably false conclusions. To teach a mixture of two terrier breeds the work of a setter is above all things an ordeal of time and patience.
My food in those days was principally game and bread. Bird shooting always fascinated me so when time allowed Donald and I had many an hour tramping through the veld looking for Redwing or along the river after pheasants, wild duck and guinea fowl.
During our walks, we usually put up small antelopes and hares besides birds, and to Donald, everything that moved was to be chased. That sort of thing, however, did not keep our larder supplied so Donald had to learn that no matter what ran, his duty was to remain next to his master until the gun went off.
It was a superhuman job teaching the pup and I learnt that there was a lot of truth in the old saying that chastisement often hurt the administrator more than the recipient. I hated smacking the wee rogue but it had to be done though for weeks Donald couldn't understand why.
He soon learnt that every time he returned from a glorious chase after buck or bird he got whacked but he could not understand the reason. After the first couple of punishments, the little devil on his return would sit just beyond my reach looking at me and wagging his tail – when I moved towards him he shifted carefully a little further away. Lord! I used to get mad as for a quarter of an hour I coaxed and wheedled him to come and be beaten.
Cautiously manoeuvring towards the pack saying "Doggie! Doggie! Come on Donald – Good Donald – come boy!" was only productive of more tail movements and as I got almost within reaching distance, another change of ground.
But he learnt in time – I've had pointers and red setters but never a better dog on birds than Don. Few wounded buck got away from him either and it was wonderful watching him tackle a heavy duiker or reedbuck whose wounds scarcely impaired and rather strengthened it's fighting powers.
Of course, the big game no small dog dared attempt to fasten on to, but a hurt animal couldn't run far with a wildly excited terrier yapping frantically all around it. In almost every case the buck would stop and desperately try to gore or kick the confounded little pest – which gave me time to get up and put in a bullet.
Four years past. I had a pointer given me also pedigree smooth-haired terrier, a lady named Betty, who almost supplanted Donald is my idol. Donald married Betty and the two presented me with many children amongst whom was Mick a perfect son of his father.
Hector, the pointer, was the odd man out as regards the family and his life was an unhappy one. He came of good stock and instinctively obeyed the traditions of his race. Donald and Betty scorned him, bit him and continually tormented Hector in the home, but when I took the three for a run into the veld, the terriers let Hector hunt around at his will.
Suddenly the Pointer would begin quartering the ground – halt and stiffen to the orthodox "point". Betty and Donald who had stood watching his work would dash directly into the bush or clump of grass which Hector guarded – away would scamper a hare, or with a whirr up would fly a covey of Redwing – and Hector sitting down would howl with heartbroken sorrow.
One day I was out with Donald and rode into a mob of sable antelope – dismounting I stalked them and fired. One big cow, staggered but went off galloping strongly with Donald yapping furiously after.
Running back to my horse I swung into the saddle and dashed in the direction the cow was going. In some thick bush, I heard Donald's battle cries and jumping off the horse ran into the thick thorn.
Everybody gets careless sometime or other and, though an old hunter I never worried about the danger of going after a wounded sable antelope into a broken bit of ravine thickly defended by ugly looking for thorn trees – my recklessness was paid for – breaking through some scrub I came right on the wounded cow at bay – I stopped simultaneously with her charge and blazed at her – shakey and panting with the run and sudden change of position one shot missed, the second grazed her neck.
Another second would have been my last – a tiny ball of white flung itself at the sable –  with a lightning twist of the long deadly horns the cow  transfixed and hurled the little annoyance in the air – but the instance's pause was her death – two heavy bullets bit into her chest and with a convulsive spring she went crashing headlong to the ground.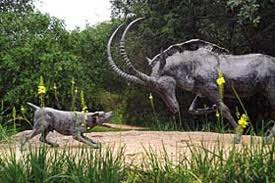 I bent over Donald, wiping the blood froth from his lips – he wagged his stump of a tail once – God I lay down and wept like a babe.
B.M.Leffler
Written on Valley Farm circa the 1930s
Based on an experience as a 17-year-old
P.O.Brooklyn
Pretoria